A common question that all of us here at YOUTH-Rx often get is wanting to know the difference between compounded testosterone creams versus the more branded, mainstream Androgel.
Of course both are topical and applied to the skin, but the biggest difference is the potency which also directly correlates with how much the user would apply on the skin.
Another difference albeit not as relevant, is androgel has alcohol in it's base formula for which the testosterone is suspended in and of course which the user then applies onto skin. In some cases, this can be irritating to the user's skin over time. Compounded creams are not typically made with alcohol and do not pose any concerns here with skin irritations.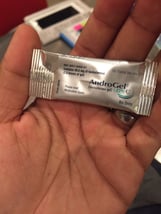 AndroGel® (testosterone gel) is offered or prescribed, at 1% and 1.62%. Both are controlled substances, available by prescription and are used to treat adult males who have low or no testosterone due to certain medical conditions.
Compounded testosterone creams are typically higher in potency, ranging from 5% up to the maximum allowed 20%. If looking at a 20% compounded cream, this equates to 200mg of testosterone per ml. When dispensed or pumped out, one ml is about the size of a quarter on your index and middle finger.
To compare, AndroGel (testosterone gel) 1% for topical use is available as follows: A metered-dose pump. Each pump actuation delivers 12.5 mg of testosterone in 1.25 g of gel - which is slightly larger than 1 ML. A unit dose packet containing 25 mg of testosterone provided in 2.5 g of gel - this is more than 2.5x the volume amount of 1 ML.
In other words, users have to apply very large amounts of gel to get even just a small dose of testosterone which in most cases, still is likely not enough to optimize a man's testosterone levels. Maybe needless to say, but this is like comparing kittens to lions. Just a massive difference in potency, total testosterone supplemented and yielded end results.
Testosterone creams simply put, provide a much more powerful punch in a small package!
If you have any other questions about optimizing testosterone or other hormones if effort to look and feel your best, let us know how we may be able to assist you.

If you are a new visitor and interested in knowing more, fill out our health history form at the link below and let one of our experienced consultants know a good time to discuss the process and more.

Submit the on-line health history form > HERE

Have questions? Contact us here > Contact Us
Stay healthy. Stay strong. And, live happy and long!
Roger & The YOUTH-Rx team